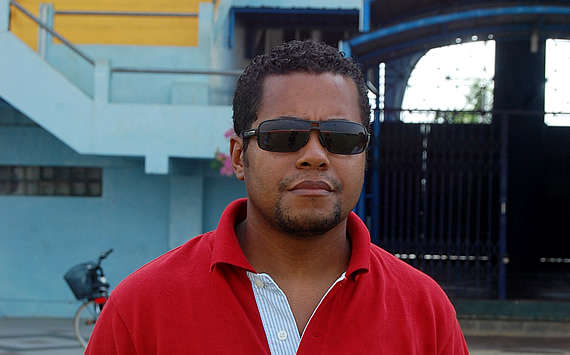 TIME : Approximately 24 hours before kick-off
Huh. So PBNS have decided to put me on gardening leave ahead of tomorrow's clash against ATM. As if that's gonna do the team any good. The players haven't been playing that well anyway. Putting a local coach in charge? Like that's gonna make any difference. The team will lose tomorrow, and soon they will be all "oh great tactical genius Divaldo, please come back, we were wrong to drop you". And then I will be like, "You fools! You dare drop me, Divaldo Alves, in the idiotic thought that you might actually get a win? Now bow down to me and admit my tactical genius!"
TIME : 20 minutes before kick-off
Wait, no Marlon in the ATM lineup? No matter, they will win anyway, since this new guy is putting players out of position and will end up looking like a fool at the end of the game
TIME : 2nd minute
Holy crap, the jinx actually scored? This is not going according to plan at all. If Negeri win they will forget all about me and love the new guy. No matter, the team can't hold on to a lead for long anyway
TIME : Whenever it was that Hairuddin equalised
BOOM! Told ya! The team will never break their no-win streak. Not as long as I am around. Divaldo Alves, tactical genius!
TIME : Nazrin's goal
What the hell is going on? Nazrin scored? That kid always thought hitting the post counted as extra points. Maybe the new coach confused him into actually scoring? Witchcraft, definitely
TIME : Half-time (ATM 1-2 N9)
Okay, Divaldo, okay. There's still 45 minutes to go. ATM can win this for sure even without Hairuddin in the team and I can have my job back. The team could not win with I, tactical master Divaldo Alves, so what chance do they have with the new guy?
TIME : 60th minute
This is getting nervy. Since when do they know how to hold on to a lead?
TIME : 75th minute
With these substitutions the new guy made it clearly shows he doesn't know what he's doing. What more with players out of their positions. I can definitely see ATM getting 2 quick goals, and me getting my job back
TIME : 85th minute
ATM JUST SCORE A DAMN GOAL FOR GOD'S SAKE!!!
TIME : Full-time (ATM 1-2 N9)
This is definitely not what I had in mind. It was I, Divaldo Alves, the tactical genius who was supposed to engineer a first win for the team this season and be hailed as a hero by the masses. Instead, a random newbie did it and the fans already love him. They were supposed to love me! Also, those glasses make him look stupid. Clearly I have a better fashion sense. I'd go to NS Betaria and ruin them, but they already did that to themselves. What next for me, you ask? I think the Everton job is available...