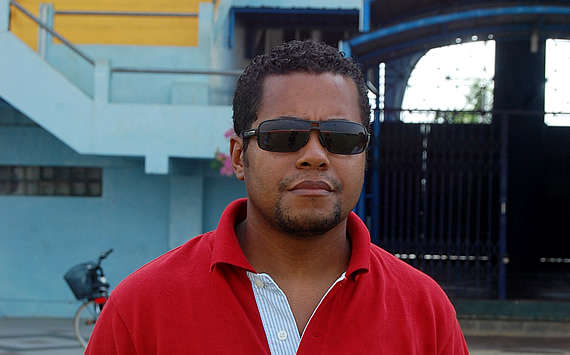 Dear Mr Glazer
It is I, Divaldo Alves, tactical genius. I am writing this letter to you for the purpose of applying for the job of manager for your club, Manchester United.
Now, I hear you saying, "But Mr Alves, we already have a manager. Why on earth do we need you? And were you not sacked by your last club?". Well, this is where you are mistaken. It is obvious that your club is in dire need of a tactical mastermind such as myself, since David Moyes seems to be doing a terrible job. How can one pick up only 1 point and 1 goal against 3 of your rivals? Add to the fact that you lost 4-1 to Manchester City. In my time as manager of Negeri Sembilan, we have never lost by more than 2 goals, an indication of my tactical ingenuity, and we certainly picked up more than a point against our rivals. Sadly, genius is never appreciated during its time, which is why my time with them was short.
To further stress my qualities, thanks to my efforts, Negeri Sembilan will be playing in a new league next season. Can your Moyes do that? Of course not. I was also able to solve the problem of this misfiring striker we had, and once that was done, we were back in the scoring business. At this stage of the season in our league, we certainly would not be challenging for the Europa League. Instead, we were after better things, such as competing in a more competitive league (in my opinion). If this has not shown my capabilities, then I don't know what will.
Furthermore, I was questioned as to why I do not play youngsters during my time. It is ridiculous. Everyone knows you don't win anything with kids. That was why I insisted on playing the oldies, because of their experience. Never mind the fact that some of them clearly cannot play the full game anymore. If I were to manage your club, Ryan Giggs will start every match as a captain, and Zaha and Januzaj will be sold to some 3rd division club in Ukraine. Also, in spirit of Asian solidarity, I will give your star playmaker who wears the shirt number 26, Park Ji-Sung, a more prominent role in the squad.
And yes, while I realize that Moyes engineered a win over Liverpool last night, it is a feat which is expected from any manager really. Which is why I will be taking over, since he already lost the first time around.
I will be waiting for your answer. Which will definitely be 'yes', since no sane person would turn down a genius such as me
Geniusly yours,
Divaldo Alves